Greenify is Western Australia's leading provider of commercial electric vehicles (EVs).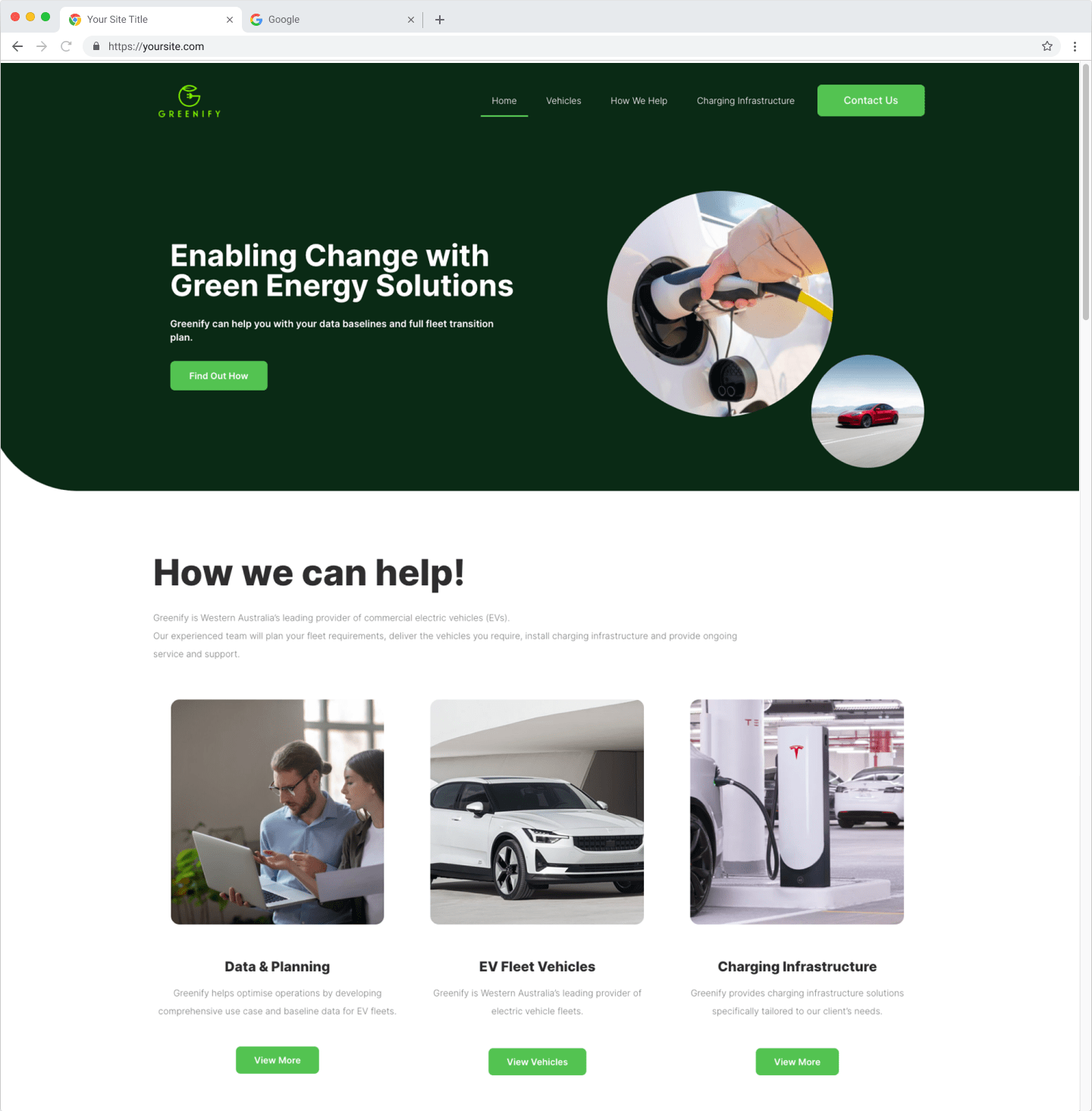 Electric Vehicles Australia
Greenify works closely with some of Western Australia's largest businesses and mining service providers to meet their EV fleet requirements. Its friendly team makes this process simple, using the latest data analytics to design fleet solutions tailored to specific operational needs. The company is trusted, thanks to its close working relationship and collaborative approach to finding the right solutions for its commercial operations. Its tried and tested, six-step approach is based on the latest data analytics to plan and deliver the EV fleet solutions required.
Electric vehicles need recharging. Charging infrastructure is vital to any commercial operation.
The Western Australian Government has set a target of achieving net zero emissions by 2050.
Greenify is leading the way in helping the government reach this target by providing EV fleets to clients throughout Western Australia. Their goal is to see EVs represent 1% of all traffic on our roads by 2025. This equates to 20,000 EVs – a target Greenify feels is achievable.
At Greenify, they understand the switch to EVs can be challenging for companies.
They work closely with their clients to keep things simple and help guide them through this transition. Their locally-based team works with businesses throughout Western Australia to help manage the entire process.
Greenify helps optimise operations by developing comprehensive business use case and baseline data for vehicle fleets
Data analytics help their team shape a specific transition plan for their clients, including vehicle recommendations
Everything from battery degradation to EV charging times is included in their comprehensive fleet assessment report
We help you to carefully consider performance and operational requirements, vehicle selection, return on investment and environmental impact
Their best fit approach helps you calculate how much you'll save on fuel and carbon emissions
EV fleet vehicles Australia
Greenify is Western Australia's leading provider of EV fleets
Their transition planning aims to select the right vehicle to maintain productivity and reduce costs
Real-time charging data optimises fleet performance, allowing clients to effectively manage fleets
Fleets operating across different utility service territories can calculate charging costs through their smart system
Once the transition plan is agreed, Greenify delivers fit-for-purpose EVs to their clients on lease terms
Charging infrastructure planning
Greenify provides charging infrastructure solutions tailored to their client's needs
Data analysis helps determine a charging schedule that ensures vehicle availability to support operations
This data helps us plan recharging infrastructure to suit their client's specific needs
Greenify advises their clients on the most suitable charging hardware to suit their needs
Their teams then deliver and install charging stations at specific points to keep EV fleets fully charged and operational