Professional Land Surveying and Mapping services in Perth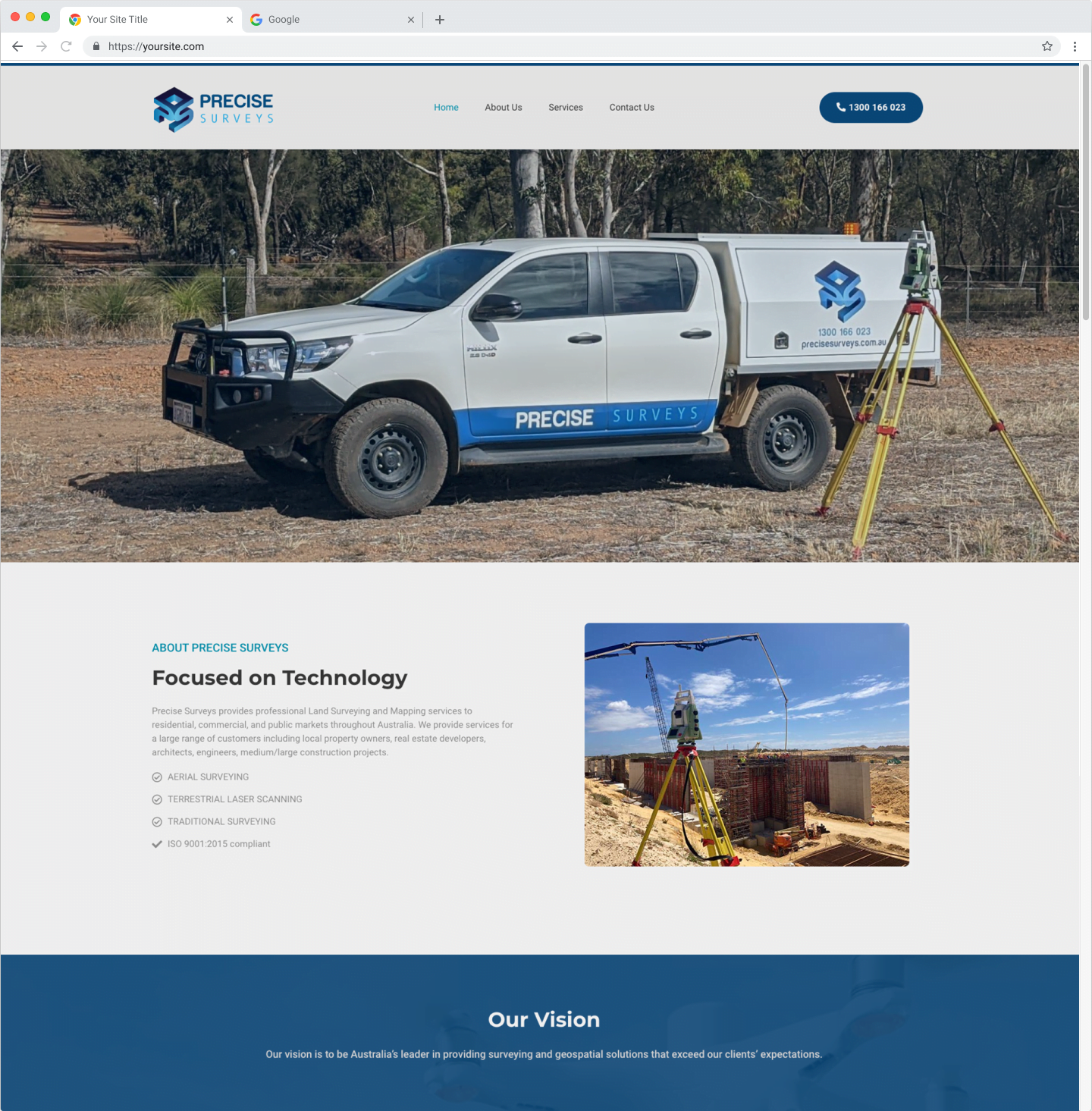 Perth's Trusted Survey Company
Precise Surveys provides professional Land Surveying and Mapping services to residential, commercial, and public markets throughout Australia. They provide services for a large range of customers including local property owners, real estate developers, architects, engineers, and medium/large construction projects.
AERIAL SURVEYING
TERRESTRIAL LASER SCANNING
TRADITIONAL SURVEYING
ISO 9001:2015 compliant
Offering a Range of Services
TERRESTRIAL LASER SCANNING
Terrestrial Laser scanners are becoming increasingly popular for their many benefits and use cases when applied to the construction and engineering industry. The scanners provide fast and extremely high-quality datasets with high definition point cloud details that have real world colour and clarity to give a digital twin of the subject area.
Precise Surveys uses laser scanners for the capture of 3D geometry throughout the construction process to create as-built representations of structures and complex features that are used to integrate with Building Information Modelling (BIM). Precise Surveys continues to evolve with these emerging technologies in the industry to deliver completeness and enhance 3D visualisation to create a safer more efficient workplace.
Benefits include:
Reducing Site visits by capturing the subject in great detail efficiently and at high quality from a single setup.
A complete 3D representation of structures that may be inaccessible to traditional capture (Eg. The underside of a bridge beam)
1 million points captured per second allows for high density point clouds to be used against design data and aid in providing valuable feedback to enhance the quality of the construction process.
Precise Surveys are one of WA's industry leaders in using Unmanned Aerial Vehicles (UAV's) to provide a variety of solutions to meet their clients needs. The UAV industry is constantly innovating and producing new technologies and processes, and they strive to be at the forefront of these leading technologies.
They have developed accurate systems and workflows to output a diverse range of deliverables in the most efficient way possible. UAV tech is increasingly more and more reliable in providing data that is of a higher quality in relation to traditional survey capture and also provides worksites with many advantages such as,
Increasing safety by reducing personnel on the ground that interface with machinery.
Digital twins of the construction site to allow engineers and supervisors the ability to plan and coordinate operations from the safety and comfort of their desks. 
Tracking construction progress on large scale worksites and reporting with short term turnaround with higher accuracy
A cost effective way for producing surveying deliverables for a fraction of the costs vs traditional surveying methods
Projects use precise surveys UAV team for :
Long term Tracking of earthworks quantities
Milestone construction events on worksite for community engagement
Point Cloud data that overlays with design data to track and quantify the construction process
Environmental and Community impacts from the construction process on local communities
Flythroughs of high risk areas that provide unique vantage points of interest
Complete orthographic maps to overlay design data and to create traffic movement plans
Their professional team has years of traditional survey experience, ensuring they are capable of completing all of your job requirements.
EARTHWORKS DESIGNS
PAVEMENT MODELLING
EXCAVATION AND BACKFILL MODELLING
CLASH DETECTION
CONSTRUCTION SEQUENCING
VARIOUS EARTHWORKS AND CIVIL SET OUT FOR SERVICES
AUDIT SURVEYS
DISCIPLINE INTERFACING
MACHINE CONTROL DESIGN
TEMPORARY TRAFFIC DESIGNS
TENDER AND PROGRESS QUANTITIES
DEFORMATION SURVEYS
CIVIL ASBUILT SURVEYS AND REPORTING
MAIN ROADS AND COUNCIL A-SPEC ASBUILTS
HIGH ACCURACY SETOUT FOR SMP AND CONCRETE WORKS
BIM UTILISATION AND DESIGN
ESTABLISHING SITE CONTROL
UTILISING DRONE OUTPUTS FOR CONTOUR DESIGN AND TAKE-OFF SURVEYS