How Can Core Web Vitals Help Your Small Business?
The aim of this digital marketing game is to drive traffic to your website, resulting in a wider organic audience, and ultimately an increase in sales.
One of the biggest factors in securing a sale, or even a lasting impression with your consumer, is their experience on your website. 1 in 2 visitors abandon a website that takes more than 6 seconds to load
This measures how a user perceives their interaction with your website, beyond just the information value.
A positive consumer experience not only encourages a sale but also contributes to your Google rankings.
In a fast-paced digital world, the definition of a positive consumer experience comes down to speed and ease of use.
One of the top reasons people abandon sites is slow loading times, particularly when mobile browsing.
Google is now focussing on the performance and experience of websites when generating its ranking algorithms. A poor user experience on your site will hinder your rankings.
Core Web Vitals (CWV) are a way to gauge and help improve the consumer experience that your website is offering.
No matter how valuable or high-quality your content is, if your CWV metrics aren't hitting the benchmarks, you won't be getting the most out of your website. CWV affects algorithms based on Google's page experience metric, which measures "how users perceive the experience of interacting with a web page beyond its pure information value."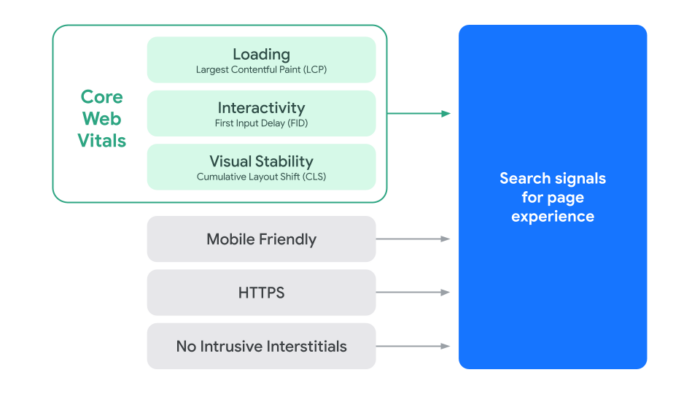 What are the CWV Metrics and Benchmarks?
There are 3 key pillars to the Core Web Vitals that will help you to understand how user-friendly your site really is.
Largest Contentful Paint (LCP)
LCP refers to the loading time of the primary content on your page. This could be the Hero image/slider, header image, landing page video, or fonts.

These large elements can cause slower load times and have people leaving the site before they have had any interactions.

The benchmark for LCP is 2.5 seconds or less for a good experience. 2.5 – 4 seconds is an average experience, and anything beyond 4 seconds is a poor experience.

Cumulative Layout Shift (CLS)
CLS is the visual stability of your website. This calculates how many unexpected layout shifts your page has once it has loaded.

These layout shifts are generally caused by elements loading asynchronously, or an element dynamically getting added to the page above the existing content.

The CLS is calculated by multiplying the impact fraction by the distance fraction to produce a score.

The benchmark for CLS is 0.1 for a positive experience, 0.1 – 0.25 for an average experience, and above 0.25 results in a poor experience.

First Input Delay (FID)
FID measures your site's responsiveness. It calculates the amount of time that passes between the user performing an action on your website, and the browser responding to that action.

This could be when the user clicks a link or taps a button on your website.

The ideal response time is 100ms or less for the best experiences, 100ms – 300ms for an average experience, and over 300ms would be a poor experience.
How Can These Metrics Be Assessed and Improved?
Initially, Google was only measuring these metrics on mobile browsing, but since early 2022, the CWV metrics are used for desktop ranking also.
To stay ahead of the curve in the competitive world of Google, you need to be understanding how to assess your site, what is causing poor CWV metrics, and how you can improve them.
To get an overview of your CWV's, you can run a Core Web Vitals report using the Google Search Console.
This will tell you which of the metrics you are succeeding in, and which need a little more attention, allowing you to focus on the metrics that matter most. A Semrush study found that nearly 84% of URLs ranking in the top 10 on mobile SERPs in the U.S. were flagged as either "Poor" or "To improve" on Core Web Vitals reports.
You can also use Google Lighthouse to run a report that will offer tips on how to best improve your site performance.
We have rounded up a few of the top tips that will set you up for long-term success in user experience.
Make sure the elements in your site are maximising SEO

SEO and core web vitals go hand in hand to increase traffic and website visibility.

Of the factors that contribute to Google's ranking algorithm, SEO makes up roughly 12-15%.

The core web vitals are the largest signal that Google can use to measure your site's experience, which is how it also has an impact on the SEO performance of your website.

Your CWV is what assists in driving your organic traffic metrics.

Improving the technical SEO in your website will work to increase the overall speed and organisation of the site.

Faster sites are attributed to being better quality and will result in more traffic being driven to them through Google rankings.

Without concentrating on your core web vitals, an optimised SEO strategy may still have you ranking highly in your keywords, but effective core web vitals will help the website as a whole and increase valuable traffic who are invested in your website.

Address your LCP

LCP is the most failed benchmark within the core web vitals.

Poor LCP often leads to frustration with users who are time-poor and looking for information at a fast pace.

When successful, this is the metric that provides users with confidence in your site, and your brand.

To improve your LCP, delay third-party scripts, and try to progressively load large images and elements on the page.

You can also opt for deferred loading of any elements of the page that contain noncritical content.

Optimise your FID

Slow response times after clicking a link or button can lead to the user exiting the site.

Make sure your site is reacting quickly to the users' interactions by minimising javascript on the site.

This will clear the cache and result in faster load times, and a better experience for the consumer.

Reduce the CLS

Create set sizing attributes for all media being added to your page. This includes photos, videos, GIFs, and advertisements.

Google also encourages the use of pre-loaded web fonts on your site, as they have a better chance of meeting the first paint and in turn avoiding any layout shifts.

Look at what else contributes to your CWV scores and overall Google rankings

As well as the before mentioned 3 pillars of core web vitals, other factors can also contribute to your CWV and Google rankings. These are:
Mobile Users (demonstrates how mobile-friendly your site is)

Net Organic Traffic (shows how effective your SEO is)

Domain Rating (shows the strength of your backlink profile)

Backlinks (they pass on-site strength and authority)

Referring Domains (contribute to your rankings)

Sometimes a site can appear successful in analysis, despite having poor CVW ratings. These other factors could be what is driving the success; however, the core web vitals are still integral to user experience.

For small businesses looking to avoid losing their ranking position to another business with a better-performing site, they still need to consider the core web vitals.
For sustained success, you need to provide users with a positive web experience. Your core web vitals will enhance this experience.
By increasing your core web vitals, you will also increase your domain ratings, and your number of backlinks, and produce a larger pool of non branded keywords.
Incredible content will not outweigh poor site performance, so if users are having trouble accessing or interacting with your website, the chances of them completing a sale are heavily reduced.
With the improvement of core, web vitals will come an increase in rankings, recognition, and site performance.
As a small business, prioritising core web vitals with the methods discussed provides a cost-effective and organic approach to attracting invested users to your website.