Top SEO Chrome Extensions to Boost Your Search Engine Rankings
Any website owner keen on boosting their rankings in search engines will find that Chrome Extensions can be a valuable tool. You can use these top SEO Chrome Extensions to Boost your Search Engine Rankings quickly and easily. Use these add-ons to monitor your website's performance, track relevant keywords, and get suggestions on how to best optimise your website content. These extensions are beneficial for those just starting with SEO and looking to get up to speed as quickly as possible.
The extensions are user-friendly and offer a fantastic way to keep up with the ever-changing world of SEO. They allow website owners to monitor their website performance and ensure it's optimised for the algorithms used by search engines like Google. Plus, they provide useful insights on how their users can improve their website's overall performance.
What's the most impressive aspect of this list?
The following is a list of free Chrome extensions that can help improve your website's position in search engine results pages (SERPs) and enhance your overall online exposure.

By mixing and matching these extensions, you can tailor them to meet your needs. Alternatively, you can adjust each extension individually to suit your requirements.
Here's a list of some free SEO Chrome Extensions
MozBar
Similar Web
Redirect Path
BuzzSumo
Meta SEO Inspector
Check My Links
PageSpeed Insights
SEO Minion
SEOQuake
Ninja Outreach
Keywords
Everywhere
FatRank
Keyword Surfer
Ubersuggest – SEO and Keyword Discovery
Maximise Your SEO with MozBar
MozBar is a comprehensive suite of tools designed to optimise website performance for web administrators and SEO specialists in the UK. This powerful extension offers valuable insights to improve your site's search engine rankings and overall SEO strategy.
Key Features of MozBar:
Monitor SEO Performance: Keep an eye on your website's SEO and evaluate its position in search engine rankings.
Keyword Research: Use the quick tools provided for effective keyword research to target the most relevant terms.
SERP Analytics: Analyse search engine results pages (SERPs) to gain insights into your site's performance and discover opportunities for improvement.
Link Analysis: Examine the quality and quantity of your site's backlinks to strengthen your off-page SEO efforts.
With MozBar, users can effortlessly monitor their site's analytics, identify potential issues, and take the necessary steps to fix them for improved search engine rankings. SEO specialists and web administrators alike will find MozBar an indispensable tool for enhancing a website's performance and maximising SEO success.
Boost Your Online Visibility with Similar Web
The Similar Web Chrome extension provides instant insights into any website's page view count, making it an invaluable tool for understanding your site's traffic and attracting more customers.
Key Features of Similar Web:
Comprehensive Data: The extension gathers data from various sources, such as Alexa, Compete, and Google, presenting it in an easy-to-understand format.
In-Depth Traffic Analysis: Get a clear view of a website's traffic and sources, and compare how traffic to different sites has evolved over time.
Investigate and Rectify Issues: Identify the reasons behind a website's recent traffic decline and implement measures to address the problem.
Target New Clients: Utilise Similar Web to discover new clients to target with specific ads, improving your online visibility and attracting more customers.
With Similar Web, you can turn your online presence into a powerful resource that drives customer engagement and enhances your website's overall performance.
Optimise Your Website with Redirect Path SEO Chrome Extension
For Chrome users, Redirect Path is a valuable add-on that helps monitor and troubleshoot HTTP redirection. It comes with a user-friendly interface and offers a range of features to improve your website's performance.
Key Benefits of Redirect Path:
Detailed Redirection Tracking: The add-on tracks and provides information about page redirection, making it easier to monitor a page's redirect status codes and follow its redirect paths.
Swift Problem Identification: With Redirect Path, users can quickly identify problematic redirection on their website and address issues efficiently.
Improved Site Performance: Issues with canonicalisation, search engine crawling, and link structure can be discovered and resolved using Redirect Path.
Ideal for Professionals: Web developers, SEO specialists, and other website maintenance experts can all benefit from using Redirect Path.
Make your website more efficient and user-friendly by utilising Redirect Path to monitor and troubleshoot HTTP redirection, ensuring a seamless browsing experience for your visitors.
Optimise Your Content Marketing with BuzzSumo for Better SEO
Looking for a powerful tool to boost your SEO efforts? BuzzSumo, a Google Chrome extension, can help you identify the most shared and discussed content on the internet. With data from over 200 million websites, it provides valuable insights into popular content, helping you make informed decisions about your content marketing strategy.
Key Features of BuzzSumo
Track Trends: Monitor trending topics and content across various niches to keep your finger on the pulse of what's capturing attention online.
Evaluate Content Efficacy: Analyse the performance of your own content and that of your competitors to identify areas for improvement and emulate successful strategies.
Monitor Competitors: Keep an eye on your competitors' content strategies and stay ahead of the game by staying informed about their latest content and initiatives.
Discover and Share Relevant Information: Find content that resonates with your target audience and share it effectively to engage with them.
Notifications and Progress Tracking: Receive updates about new content in your niche and monitor your content marketing progress to ensure you're on the right track.
BuzzSumo is an invaluable resource for content marketers of all sizes, helping you fine-tune your content marketing strategy and assess the effectiveness of your campaigns. By leveraging this powerful tool, you can enhance your SEO efforts and make your content stand out in a crowded online space.
Boost Your SEO Efforts with Meta SEO Inspector
Meta SEO Inspector is a must-have tool for anyone who operates a website or works in search engine optimisation (SEO). This powerful tool allows users to quickly assess their site's performance and pinpoint areas for improvement, ensuring a seamless and efficient SEO strategy.
Key Features of Meta SEO Inspector
Identify Broken Links: Locate and fix broken links on your site to improve user experience and prevent negative SEO impacts.
Measure Page Load Time: Examine page load times to optimise site performance and boost search engine rankings.
Examine Metadata: Evaluate crucial metadata elements like page titles and descriptions to ensure they are optimised for search engines.
Analyse Content: Gain in-depth insights into your page's content, including key phrases, rankings, and more, to identify areas for improvement.
By utilising Meta SEO Inspector, website owners can quickly enhance their search engine rankings without spending a fortune on professional SEO services. With this indispensable tool, you can take control of your site's performance and make data-driven decisions for optimising your SEO strategy.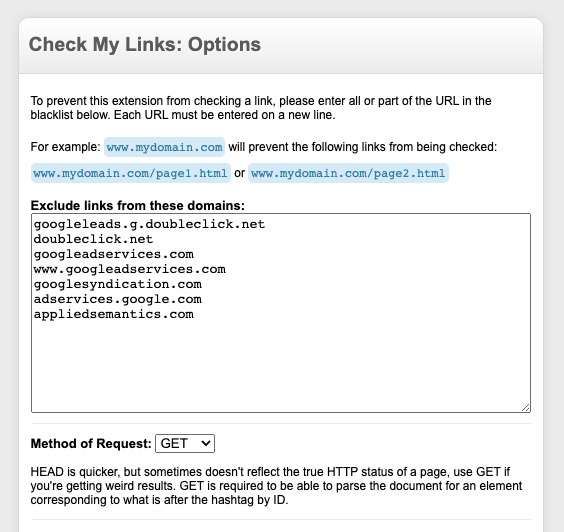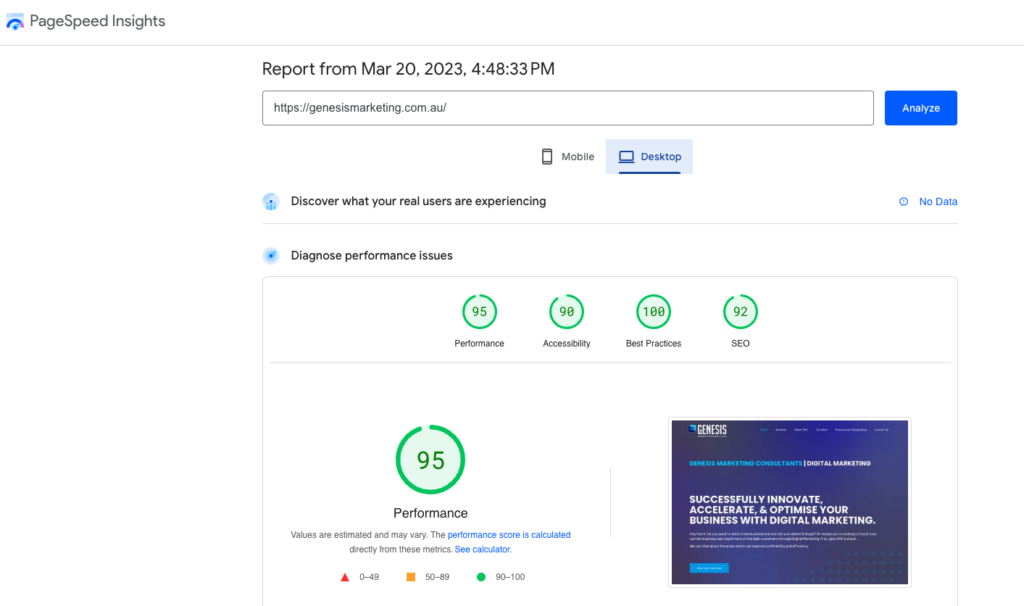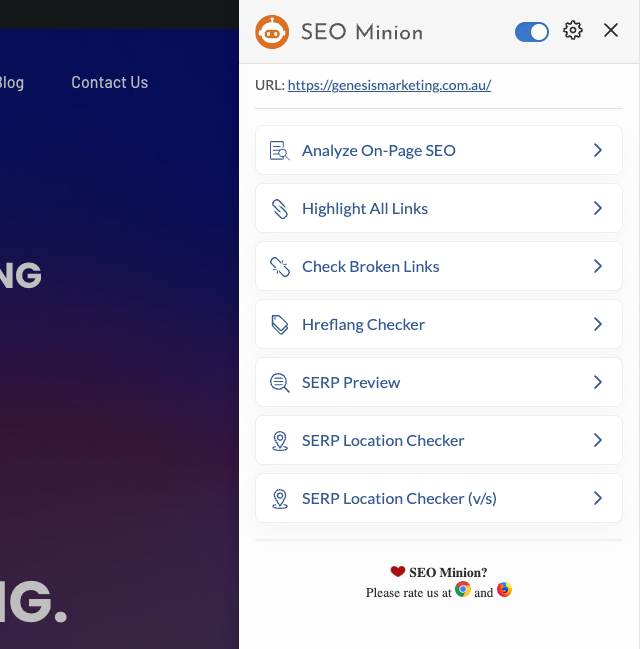 Overview and Conclusion
When it comes to SEO-related Chrome extensions, you're spoilt for choice. These tools enable website owners to monitor their sites' performance across various search engines, helping them improve rankings and strengthen their online presence.
Finding the Right Solution
Investing in multiple search engine optimisation techniques can be costly and impractical. However, there are solutions out there – you just need to identify the right one for you. The extensions mentioned here offer a great starting point.
Mix and Match for Optimal Results
While using all the extensions may be overkill, you can choose one or a combination to boost your site's search engine rankings. So, what have you got to lose? Give these SEO extensions a try and see the impact on your website's search engine rankings.