Revolutionise Your Workflow: How Notion Task Management Software Transforms the Way You Work
In today's fast-paced business world, managing tasks efficiently and effectively is crucial for staying ahead of the curve. Notion, a powerful all-in-one task management software, is revolutionising how individuals and teams manage their work. With its unique blend of features and an intuitive interface, Notion streamlines workflow and boosts productivity. In this blog, we'll explore the key benefits of Notion task management software, illustrating how it can transform your work life.
How can Notion improve your productivity?
Here are some key features Nption provides, enabling you and your team to take productivity to the next level.
1. Seamless Organisation with Nested Hierarchies
One of Notion's standout features is its ability to create nested hierarchies. These hierarchies allow you to organise your tasks, projects, and knowledge base within a single platform. With a simple drag-and-drop interface, you can quickly create a hierarchy that mirrors your unique workflow, making it easier to access relevant information and stay on top of your tasks. For instance, you can create a top-level page for your marketing department, with sub-pages for individual projects and campaigns.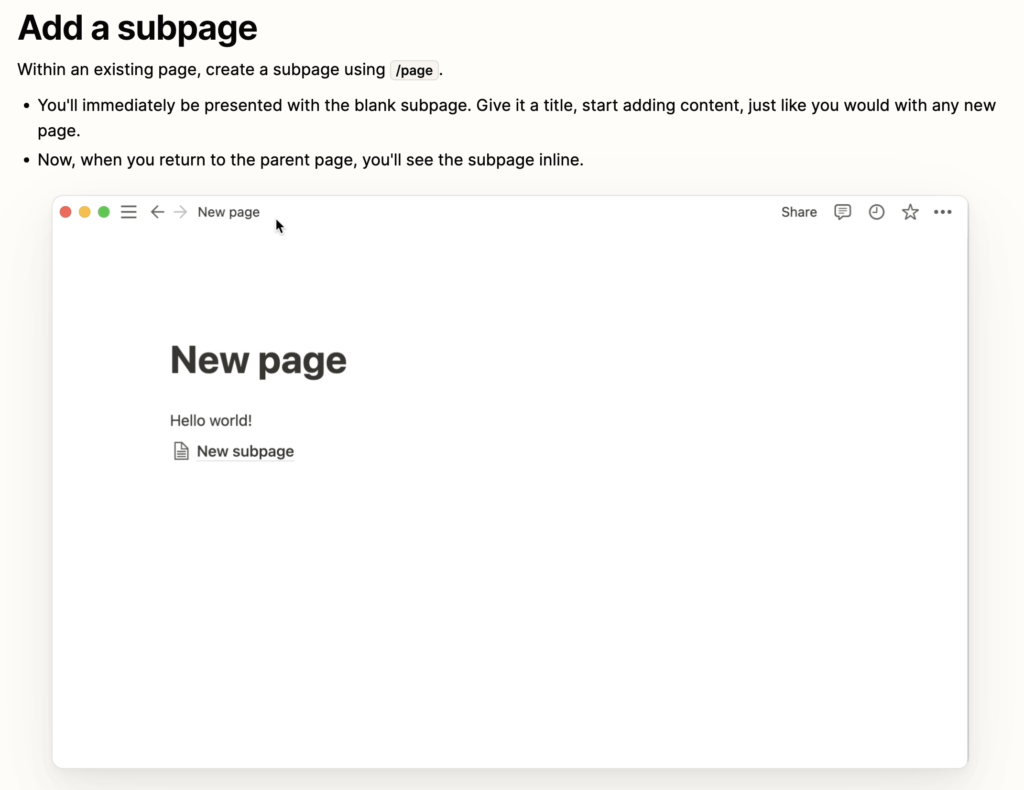 2. Flexible Task Management with Kanban Boards, Lists, and Calendars
Notion offers a variety of views for managing tasks, including Kanban boards, lists, and calendars. This flexibility allows you to choose the layout that best suits your workflow and preferences. For instance, a Kanban board is ideal for visualising project stages, while a list view provides a more traditional task management experience. With calendar integration, you can also keep track of deadlines and important events, ensuring that nothing slips through the cracks.
3. Collaboration and Teamwork Made Easy
Notion's real-time collaboration features make it an excellent choice for teams. With shared workspaces, team members can contribute to tasks, comment on progress, and stay updated on project developments. This collaborative environment fosters teamwork and streamlines communication, resulting in increased efficiency and productivity. Additionally, Notion supports granular permissions, allowing you to control who can access and edit specific pages or sections.
4. Customisable Templates to Suit Your Needs
Notion offers a vast library of templates that can be customised to suit your specific requirements. Whether you need a project tracker, meeting notes, or a content calendar, there's a template for every use case. These templates provide a solid foundation for building your workspace, saving you time and effort. You can create your own templates to ensure consistency across your projects and tasks and also be user-friendly.
5. Powerful Integrations with Other Apps
To maximise efficiency, Notion integrates seamlessly with popular apps and tools, such as Google Drive, Trello, Slack, and GitHub. These integrations allow you to centralise your work and streamline your processes, eliminating the need to switch between multiple platforms. For instance, by integrating Notion with Slack, you can receive real-time updates on task progress, keeping you informed and engaged with your team's work.
Notion integrates with Google Calendar and Google Drive, allowing users to easily embed Google documents, sheets, and calendar events within their Notion pages. This integration helps centralise project management, allowing users to access and work on relevant documents without leaving the Notion workspace.
Example: A user can embed a Google Sheet in a Notion project page, allowing team members to update the sheet directly within Notion, keeping project information up-to-date and easily accessible.
Users can import Evernote notes into Notion, making it easy to migrate existing notes and organise them within Notion's powerful hierarchy system. This integration makes it convenient for users who have been using Evernote for note-taking and want to switch to Notion without losing their previous work.
Example: A user can import an Evernote notebook containing meeting notes into a Notion page, organising them into sub-pages for easy access and future reference.
Notion supports embedding content from a wide range of services, such as YouTube, Vimeo, SoundCloud, Loom, and more. This feature enables users to enrich their pages with multimedia content, making them more engaging and informative.
Example: A user can embed a YouTube video tutorial within a Notion page to provide additional learning resources for a specific topic.
AI-Powered Assistance:
Notion has introduced a feature that allows users to access OpenAI's GPT-3 language model directly within the platform. With this integration, users can generate text, draft emails, create lists, answer questions, and more, all with the help of AI-powered prompts. This feature helps streamline content creation, enhance productivity, and save time.
Example: A user can draft an email to a client within Notion by providing a short description of the email's purpose and letting the AI assistant generate a well-structured and professional email draft. The user can then review, edit, and send the email from their preferred email client.
These seamless integrations with other software make Notion a powerful productivity tool that consolidates various aspects of project management, content creation, and collaboration into a single, unified platform.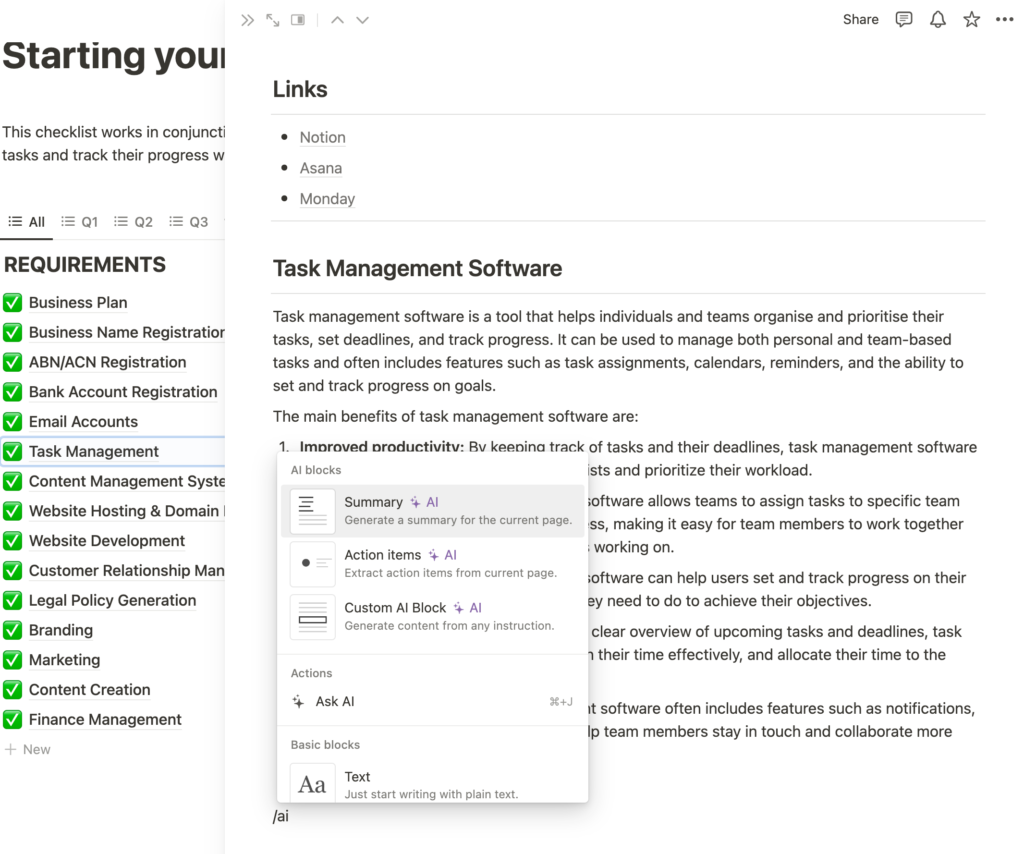 6. Markdown and Rich Text Editing for Effective Documentation
Notion supports Markdown and rich text editing, enabling you to create and format content with ease. This feature is particularly useful for creating knowledge bases, documentation, and meeting notes. By utilising Markdown and rich text editing, you can organise your content with headings, lists, tables, and more, making it easier to read and comprehend.
7. Offline Access and Cross-Platform Compatibility
Notion's offline access and cross-platform compatibility ensure that you can manage your tasks and projects from anywhere, at any time. With apps available for Windows, macOS, iOS, and Android, you can access your workspace on your preferred device. Furthermore, Notion's offline mode allows you to work without an internet connection, automatically syncing your changes when you reconnect.
Conclusion
Task management software is a game-changer for individuals and teams looking to revolutionise their workflow. With its powerful features, such as nested hierarchies, flexible task management views, and seamless integrations, Notion streamlines processes and boosts productivity. Its real-time collaboration capabilities, customisable templates, and rich text editing options make it an invaluable tool for managing tasks and projects effectively.
By choosing Notion as your task management solution, you're investing in a platform that is adaptable, user-friendly, and designed to meet the unique needs of your business.
Give it a try and experience the transformative power of Notion for yourself.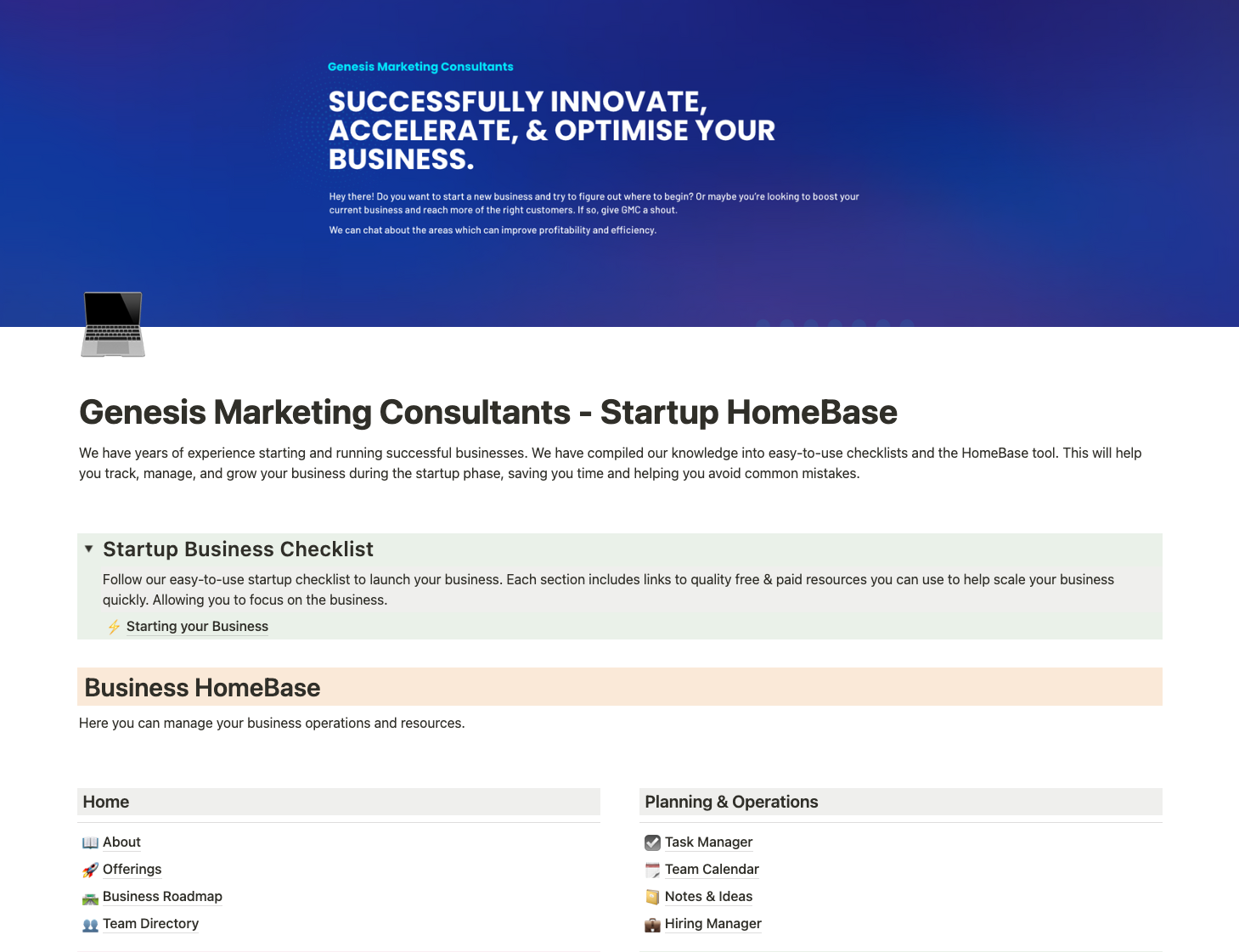 Get access to Startup HomeBase.
Your Free Notion Template
Startup Business Checklist
Full of links and resources to help get you started.
Easy-to-use Task Management
Manage your business and teams task in one spot.
Social Media Marketing Planner
Seamlessly plan and manage your social media posts.
Understanding your clients and value proposition starts with your business plan.