The Best AI Tools to Help Automate Your Digital Marketing
Artificial intelligence (AI) has the ability to fundamentally alter how we carry out daily activities, including our pursuits in digital marketing. It is no secret that businesses must use technology to stay current and effective in the increasingly competitive world of digital marketing.
There are a number of things to take into account when deciding which AI technology to include in your digital marketing plan. Initially, you should decide which parts of your marketing strategy are most suitable for automation. For instance, you could want to concentrate on automating work that involves managing social media, data analysis, and content development.
Once you have determined which areas can benefit from automation, you can assess the existing AI solutions to determine which ones best meet your requirements. There are many AI technologies accessible, therefore it's critical to choose the ones that will benefit your company the most.
Natural language processing (NLP), machine learning (ML), and computer vision are some of the most popular AI technologies utilised in digital marketing. Although ML can aid with data analysis and predictive analytics, NLP can help with activities like content generation and editing. For social media marketing, computer vision may help with tasks like picture and video analysis.
Not all AI solutions are created equally, it is crucial to remember this. Some could include more sophisticated capabilities than others, while others might be more reasonably priced or simpler to use. Prior to selecting an AI solution, it is critical to assess the specific demands of your company and your spending power.
Some prominent AI solutions for digital marketing automation include Lately + Hootsuite, Sprout Social, and HubSpot. These solutions provide various levels of automation, from complex analytics and data visualisation to social media scheduling.
Who can benefit from AI-driven content creation?
Are you a small to medium-sized business looking to use digital marketing to boost leads and sales? By enabling you to spend less time attempting to produce digital marketing assets, planning and producing content, and communicating with consumers, AI-driven content production might be beneficial to you.
11 best AI-driven content creation tools for 2023
Beautiful.AI
Beautiful.AI is an automated presentation maker. You can use it to easily create a pitch deck or presentation in minutes without needing design experience. The design behind this AI tool helps you deliver high-quality presentations that are on-brand.
The tool includes viewer analytics. It also allows for custom branding, access to millions of stock videos and photos, and speech-to-text. You can use it to present live and share your screen or export the presentation as a PDF. There are several pricing plans to choose from.
Brand24
Brand24 is an AI tool that lets you automate your online reputation management, a crucial yet often overlooked part of digital marketing. The tool searches social media, blogs, news sites, videos, forums, and more to find mentions of your brand. It then uses sentiment analysis to determine the underlying emotions behind these mentions.
Using this type of reputation management tool lets you quickly respond to criticism and easily intervene when a customer support issue arises. It can improve your overall brand reputation, in addition to specifically helping you spot flaws in products and services and boost customer retention.
Chatfuel
Chatfuel is an AI tool that lets you build bots without any coding and then use those bots to automate customer service. The cool thing about this tool is that you can create customized virtual personalities for your chatbots via a drag-and-drop interface. This gives you the level of customization you would normally expect from a chatbot that requires coding but without the need to code.
The bots made by Chatfuel do well at interpreting non-grammatical or misspelled responses. It easily finds keywords in messages to deliver the appropriate response. To give you even more confidence in Chatfuel, consider that they are an official Meta partner.
Copy.ai
Copy.ai is one of many AI tools to help you quickly generate copy for sales, email marketing, and more. The templates this tool uses are especially useful for sales copy and email marketing. Plus, you can use the tool for other types of content.
You can use this tool to create content tailored to your audience or improve your existing content. Create blog posts, landing page copy, and other text. There are free and paid plans available.
Emplifi
Emplifi is an excellent AI tool for automating social media management, including working with influencers. You can use the tool to manage multiple social media profiles in a single dashboard. It also tracks campaign performance.
As mentioned, the most popular use of Emplifi is in influencer marketing. The dashboard excels at streamlining the process of finding, vetting, and contacting influencers. You will also view analytics via the tool and schedule posts with ease.
Grammarly
Grammarly is one of the many AI writing tools on the market. This tool automates the editing process, including checking for grammatical errors and improving the style. The free version of Grammarly reviews and corrects punctuation, spelling, and grammar. The paid version also helps with clarity, engagement, and delivery. Opt for the paid version if your budget allows for it.
As a bonus, Grammarly includes explanations with all its grammar suggestions, helping you improve your writing. You can also use it as a browser extension for Google Docs. You can even use it while writing in Word or on Facebook or Twitter.
This AI tool can be useful for editing human writing and content generated by AI programs, such as Jasper AI. In fact, you can use Grammarly on your AI-generated content as a way to make the generated content seem more natural and avoid suspicions that it was written by artificial intelligence.
Headlime
Headlime can generate text for any type of content you need, but it is especially useful for landing page copy. That is because it has an integrated landing page builder that prevents the need to copy and paste.
This AI tool relies on GPT-3's deep learning abilities. It predicts and completes text as you type it. It can also write copy for you in various languages and tones. Or you can use it to optimize word count and choose a high-performing topic to write about yourself. It currently supports 11 languages and has more than 1,700 copy templates.
Jasper AI
Jasper AI is a tool to help you automate part of the process of copywriting. This tool can automate nearly the entire copywriting process, from curating content and choosing topics to generate copy.
The possibilities for using content written by Jasper AI are endless. It can be used in email marketing, social media posts, your website, landing pages, Google ads, and nearly anything else. Best of all, the content created by Jasper AI is search-engine optimized.
All the content Jasper AI creates is original and nearly 100% plagiarism-free. However, it is still good to run the content through Copyscape. With Jasper AI, you can create content in a matter of clicks. You can also use the program for copywriting templates. Just keep in mind that the content written by Jasper AI will require some editing.
You can choose from several plans, each of which has its pricing based on how many words you want to be produced within that month.
ManyChat
ManyChat is a top example of an AI tool for chatting with your customers. You can use it to easily generate business bots that you can then use for advertising, sales, or even maintenance. Simply put, the program uses artificial intelligence and machine learning to create bots to help you communicate with customers.
Use these bots on various platforms, from your website to Facebook Messenger. Conveniently, this tool lets you take advantage of chatbot technology without having any technical knowledge.
With chatbots, you can build a relationship with customers as they shop. You can also collect data and generate reports to help you improve customer service. You can use ManyChat to plan messages and send them en masse.
Like several of the tools on this list, ManyChat offers a free version as well as a paid version. The paid version includes unlimited contacts, unlimited growth tools, custom fields, tags, and keywords.
Phrasee
Phrasee is another content creation tool. You can use it to write push notifications, posts for social media, or even emails. The tool uses a machine learning algorithm along with natural language generation to produce the copy. It also looks at historical customer data and automates testing to figure out what text will do the best in your target market.
One really cool feature of Phrasee is the ability to adapt to your brand voice via its brand language optimization competence. That simply means that the AI will use the same language that you use in your brand. It also adapts the language to the various stages of the customer journey.
As with Jasper AI and any other AI-written content, you have to edit what Phrasee produces. Still, it gives you an excellent starting point and automates the process of creating the first draft.
Seventh Sense
Seventh Sense lets you incorporate AI into your email marketing. Use the service to improve engagement with your audience by properly timing your email delivery. The platform will also improve the deliverability of your emails, which boosts your sender score and helps keep you out of spam inboxes.
There is just one important downside of this tool – you can only use it with Hubspot or Marketo.
Surfer SEO
While Surfer SEO won't automatically write your content for you, it automates the process of optimizing that content. It can even help you come up with topics and plan the outline for your articles. It provides a list of top-ranking keywords and suggestions for the frequency of use. As you write, the AI assesses your use of headers, keyword density, length, and readability. It can even give you an ideal image density.
You can also easily integrate Surfer SEO with other tools you use for writing, from Google Docs to WordPress to Jasper AI.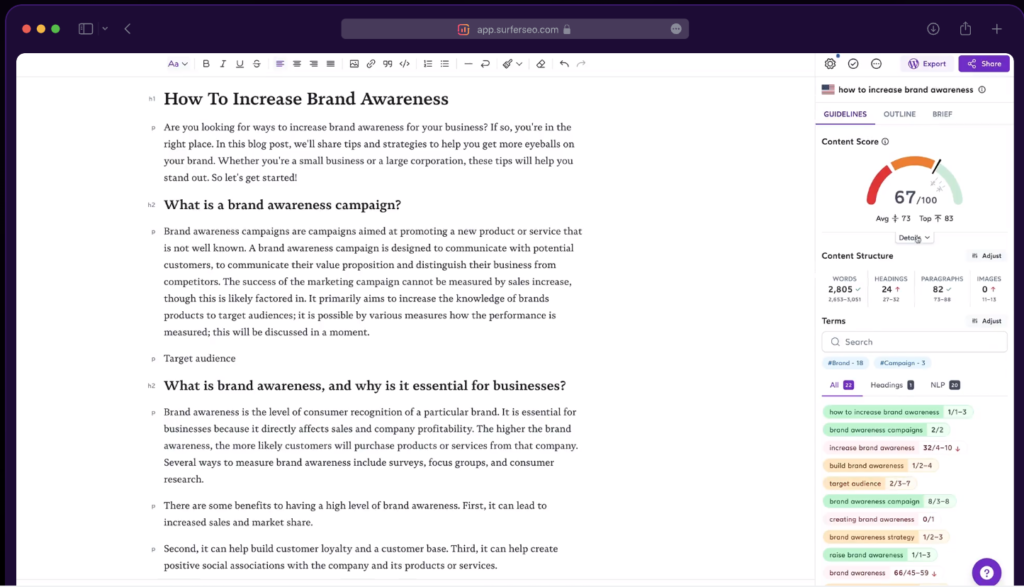 Conclusion
Businesses aiming to simplify their digital marketing operations may find AI to be a game-changer. When choosing which AI technologies to employ, it's crucial to decide which aspects of your marketing strategy will benefit the most from automation and to compare the various options according to their capabilities, cost, and convenience of use. In the end, the proper AI solution may help you save time, increase the efficacy of your marketing, and provide you with a competitive advantage in the digital sphere.