Keeping Your SEO Strategy on Trend
There are always new SEO trends emerging that can help you keep your SEO strategy current.
There are also some pillars of SEO that aren't new but are still integral to your website's ranking.
Things like Core Web Vitals, voice search, mobile SEO, user intent and local SEO are strategies that still need to form part of your overall plan.
Sometimes the new trends will simply be updated takes on these existing SEO trends.
In this post, we will cover what those lasting SEO pillars are, and which of the new SEO trends you should be adding to your strategy.
The best practice is to ensure you have included all of these in your overall SEO strategy.
1. Make Sure You Have Your Google Search Console and Bing Webmaster Tools Set Up
This includes Google Analytics, Google Search Console and Bing Webmaster Tools.
Google Analytics is essential to keeping tabs on your website's performance, and your audience's behaviour.
Even prior to uploading any content to your website, it is a good idea to get your analytics set up so that you can see the impact of what you post.
Sign up or into your Google Analytics account. Then select "Admin" followed by "Create an account." This is where you can input your account name, and select your data-sharing preferences.
You can opt to add additional users if there are multiple people working on your website, and you can link your Google Ads account if you have one.
Google Search Console will let you know which keywords are attracting traffic if Google is indexing any of your pages, an insight into your website's visibility, and your numbers for viewing impressions and link clicks.
You can set this up by signing into your Google account, adding your website URL to the Google Search Console page, and following verification instructions to be up and running.
Bing is a direct competitor with Google; however, it can be useful in understanding your site's performance.
You can use Bing to identify why you have your current ranking position if your content has any duplicates and to test the loading speeds of your pages.
To create an account for Bing, you can use an existing Microsoft, Facebook, or Google account.
Once your account is verified, you will have access to the analytics.
Bing will also give you the option to upload your site map, or to begin creating an SEO strategy.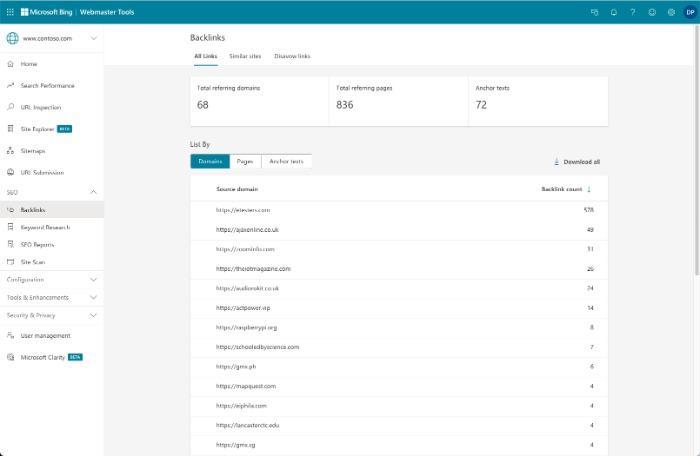 2. SEO Plugins
If you created your website using WordPress, there are several SEO plugins at your disposal.
The most popular of these is Yoast SEO, and the function of the plugin is to show you what could be improved to boost your search engine rankings.
Other SEO plugins include All in One SEO Pack, The SEO Framework, SEO Press, and Nitropack.
Though these all perform the same overall function, you want to make sure the one you choose covers the tracking of all your keywords, is user-friendly and has frequent updates.
3. Generate a Robots.txt File
This can be done while you are in the building process of your website, and it assists the search engine bots in knowing which parts of your website they are permitted to crawl and sort.
It will also reduce your website loading time as it prevents unnecessary content from loading initially.
The robots.txt file will stop search engines from indexing any poor-quality pages, which results in your SEO strategy being focused on your primary pages.
Be conscious of these factors when creating your Robots.txt file so that you can select which pages or specific sections you want to be indexed by the search engine bots.
This robots.txt file will need to be regularly updated as you add new pages to your website.
4.Create a Site Map
As mentioned before, Google Search Console and Bing Webmaster give you the option to upload your site map.
This is mainly needed if you have a large site or a large amount of content, your site isn't linked as well as it should be, your site is new and needs external links, or if your site contains a large number of videos and photos.
A site map makes your site easier to navigate, ensures everything is effectively linked and makes it easier for crawlers to categorise your pages and pick up any updates you have made.
The most common way to produce a site map is by using an XML file.
5. Make Your Site Accessible to Search Engine Crawlers
If the search engine bots can't find and sort your content, your audience will also struggle to find you!
There are a few steps you can take to make sure your site is accessible to crawlers, these include:
Utilising internal links, where you hyperlink other relevant content within your website. This demonstrates the relationship between pages to the crawlers.
Using keywords in your meta descriptions and titles. This will indicate the type of content to crawlers, but also assist you in your ranking position for this content.
Check that the crawlers can get onto your site by using the URL Inspection Tool within the Google Search Console.
Make sure your landing page contains the most vital information, as the bots will not travel through every page of your website. You want to make sure they are getting all they need for search engine rankings from those first few pages.
6. Cater to the Mobile User
People are increasingly using shopping apps and web-based apps on their mobile to do their browsing, so you need to be catering to them and ensuring they aren't having a poor experience on your website.
Check that your web design is compatible with a mobile-sized screen or set a mobile-specific layout.
Make sure your search bars and menu icons are easily visible in the mobile layout.
Once you have done this, pick up a mobile and check out the experience for yourself. Imagine this is you first impression of your brand and website.
Improve load times by compressing and/or resizing the images on your site. If you are unsure how your website is performing for mobile, Google Search Console can give insight into this.
7. Avoid Slow Image Load Times
This is not just an issue for mobile, large images can also cause slow load times on other devices.
You can use Google PageSpeed Insights to check over your current images, flag any that are too large, and offer tips for how to improve this.
There are several apps like ImageOptim compresses images on the market that can compress your images to give you faster load times like Compress JPEG and Tiny PNG.
8. Keep an Eye Out for Errors
Errors like broken links and 404 errors can be frustrating for users and can also have a negative impact on your search engine rankings.
Google Search Console is a tool that will help you to identify broken links on your website that need fixing. Not only do they create a poor user experience, but they can also impact your site's ranking in search engine results pages (SERPs).
To repair the broken links, you can either edit the hyperlink so that it is linking the right page, remove the link from the website altogether, or build a 301 redirect so that the link stays intact but redirects to another page on your website.
9. Eliminate Content Double Ups and Keyword Overuse
Repetitively using the same few keywords throughout your website can negatively impact your search engine rankings.
Doing this can often confuse search engine bots when they are attempting to index your pages.
Ultimately, it could result in all pages not being ranked highly, and therefore penalising your website.
To avoid this, spread your keyword usage through body text as well as headings and descriptions.
Don't double up on headings and meta descriptions, make sure these are individually catered to each page.
Google Search Console is again a great tool to check your website over for double-ups in content, and overuse of keywords across multiple pages.
10. Check what Keywords Your Competitors are Using
This will give you an insight into what keywords are successful for your competitors, that perhaps you aren't targeting yet.
Though you may be ranking excellent for your keyword profiles, there is a chance that a good portion of your audience is still being driven to a competitor, and this could be through alternative search phrases that they are using.
This is a low-budget way to really boost your search engine rankings and overall visibility.
You can use web tools like Semrush to search your competitor's common keywords and keyword gaps, these tools will also provide you with what rate of traffic these words are attracting over time.
11. Understand How Your Audience is Searching on Google
User intent is a pillar of SEO strategy and is crucial to the way your search engine rankings are calculated.
The crux of it is that if you can understand your customer's needs and desires, by knowing what it is they are searching for, you can ensure that your websites meet these needs.
You have a specific target market, so you need to understand what they are entering into the search engines when they are browsing.
Start with a phrase or question common to your niche and utilise Google's "People Also Ask" to find out what other keywords relating to this topic are being used.
12. Select a Few Focus and Secondary Keywords to Strategize With
Your primary keywords are the stars of the show, but they still need sidekicks, and this is where the focus and secondary words come in.
The keywords are about your core content, but the focus and secondary words assist in getting this core content out to a wider audience.
You only need a couple of secondary and focus keywords, but they need to be impactful.
Ensure they are relevant to both your business and your audience, think about how frequently these words would be used when "Googling", use words that you find in keyword gaps from your competitors, and a combination of short-tail and long-tail words work best for SEO.
As we mentioned before, once you have your profile of words, make sure they are spread throughout the website in the body of content, descriptions, and titles.
You will also need to ensure you are ranking for these chosen keywords.
To do this you will need to understand search volume, search difficulty and cost per click.
Include your keywords in anchor text for links, and ensure you enhance your descriptions with these keywords also.
13. Clever Content
Once you have your keywords, you can start to compile a list of content ideas.
Content is another one of the long-lasting pillars of SEO strategy, however, it is only effective if the published content is engaging and purposeful for your audience.
You want your audience to leave your page having gained some knowledge and feeling inspired to act by it clinking on a button or even completing a sale.
To do this, you want the audience to feel as though you have imparted your credible knowledge to them.
The best way to achieve this reaction from your audience is through how-to articles, sharing personal experiences, informative pieces that answer common questions, or visually appealing pieces.
14. Include Information in All the Right Places
Even your URLs can contribute to your SEO, making it easier for your audience to understand what is on the page through the URL wording.
If your URL doesn't align with the content, it can throw users off, and cause them to click on a competitor's search result instead.
To have the most effective URLs, use concise descriptive language, refrain from using symbols, and try to encapsulate the page's content as accurately as possible.
Title tags, meta descriptions and image tags are also ways that your chosen wording can impact your SEO.
These tags give information to search engines about what these elements are, and how useful they may be to users in their searches.
15. Utilise Schema Markup
This is code that you add to your website, and basically, it provides definitions of your content to search engine bots.
It also helps you to target rich snippets. Rich snippets are a way to add additional information to your search results.
Commonly this is in the form of maps showing the location of the business.
These tend to have high click-through rates as they make the business stand out among the other search results.
The positive flow-on effect is that this boosts your credibility with Google and pushes your rankings even higher.
16. Create a Link Building Profile
To further drive the quality content you have created, and make sure it is ranking where it deserves to, you will want to build a profile of backlinks on your website.
Link building is a great way to boost your SEO, increase your visibility, and increase your organic search results.
Some tips to begin link building are below:
Offer some of your quality content to popular blogs for a feature
Pitch your business to local directories or roundups
Ensure your content is as high quality and informative as possible
Research your target audience's needs, and make sure your content meets these
Link well-respected websites in your field and let them know, this could lead to a backlink to you!
17. How to Know if it's All Working
With all this strategy put in place, how do you know if it is helping your rankings, and your overall business?
Creating reports is a great way to check on the progress of your website's SEO performance.
You want to be assessing the following points:
Traffic
Backlinks
Conversions
Technical SEO
Tracked Keywords
Rankings
Top Performing Pages
Local SEO
You also want to check in on the short and long-term goals of your SEO strategy, how you are tracking with these, and whether any adjustments need to be made.